A summer tradition that was put on hold in 2020 due to the pandemic, returned to the Springfield Masonic Community this August.  Margaritaville was back, bigger and better than ever. There was a crowd of over 100 community members and their families.  Everyone loved the food, cheeseburger sliders, (with all the fixins'), chips, and watermelon.  There were a variety of cookies to please every taste, and a surprise dessert appeared later in the evening.
The weather was perfect for eating outdoors as well as listening to Jimmy Buffet music performed by Jim Merrick. For those who came dressed for this special occasion, there were gift cards, one for the lady wearing the best muumuu and another for the man wearing the best "ugly" Hawaiian shirt.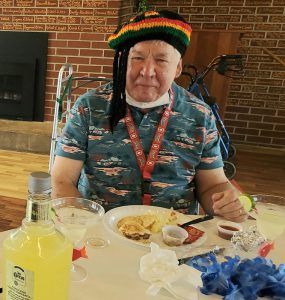 There was a special celebration that added to the festivities, a birthday surprise for Dave Flohre!  Part of the excitement was that Dave had no idea this was happening. The community members were anxious to sing "Happy Birthday" and enjoy his birthday cake.  Happy Birthday Dave!!