For one day, we stand united in respect for you, our veterans. Veterans Day gives the country an opportunity to thank those who have previously served in the U.S. military. Veterans Day occurs on November 11th every year in the United States in honor of the "eleventh hour of the eleventh day of the eleventh month" of 1918 that signaled the end of World War I.  Veterans Day commemorates veterans of all wars.
Veterans Day originated as "Armistice Day" on November 11, 1919, the first anniversary of the end of World War I. Congress passed a resolution in 1926 for an annual observance, and November 11th became a national holiday beginning in 1938.
Browning Masonic Community (BMC) annually holds a Veteran's Day gathering.  This year began with a delicious breakfast consisting of fresh homemade cinnamon rolls, scrambled eggs, biscuits and gravy, sausage and bacon! The Honorable Tim Pedro, Mayor of Waterville had breakfast with the veterans and helped raise the State of Ohio flag.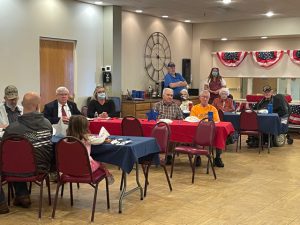 Chris Roper performed the ceremony and pinned the veterans. They were presented certificates of service made by BMC. Each veteran also received a tumbler with our logo and "VETERAN- NOUN a person who wrote a blank check payable to United States of America for an amount up to and including one's life."
Following the ceremony BMC had their flag ceremony.   Each branch of the military had individuals who served their country raise the service flags, as well as the new Browning Masonic Community flag and the State of Ohio flag.  The flag raising was a very special time for all in attendance.
The military men and women who serve and protect the United States come from all walks of life. They are parents, children, grandparents, friends, neighbors and coworkers, and are a vital part of their communities. Thank you for stepping up when your country needed you.