The Greater Springfield Partnership recently held their Annual Meeting at the Hollenbeck Bayley Creative Arts and Conference Center on the campus of Clark State College.  The highlight of the evening was the presentation of awards.  The winners for 2021 are:
Business of the Year:  Springfield Masonic Community
Small Business of the Year:  Fire Manufacturing Innovations LLC
Restaurant/Retailer of the Year:  Winan's Chocolates & Coffee
Minority-Owned Business of the Year:  Kes Harris Trucking
Community Impact Award:  Clark county Combined Health District
Ambassador of the Year:  Greg Rogers
Big Dreamer Banner:  Johnny Lytle
Safety Leader of the Year:  Thomas Mullins
All of the winners were excited to share their successes with those in attendance.  Videos were prepared in
advance so everyone could get a first-hand look at the businesses.  Scott Buchanan and Tony Berardi shared the history of the Springfield Masonic Community (SMC) from the late 1800's through current times. Some of the attendees were surprised to learn about the rich history of The Ohio Masonic Home.
Tony Berardi, Springfield Masonic Community President said, "We look forward to the future and continuing to work with the Greater Springfield Partnership."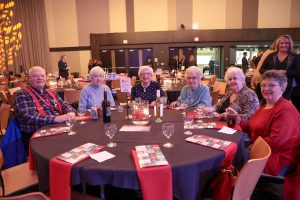 Business of the Year, CEO Scott Buchanan shared, "Thanks Springfield, for your support of the Springfield Masonic Community for the past 127 years."
There was a wide variety of people connected to SMC in attendance.  Three tables of guests ranged from community members to nursing and life enrichment. Let's not forget employees from dietary to the SMC President and CEO to The Ohio Masonic Home Foundation Executive Director. This eclectic group laughed, ate and celebrated this momentous occasion.
Springfield has been through some difficult times, particularly during the last couple of years battling COVID.
The business community has gone above and beyond to make investments in their city. SMC will continue to be a strong supporter of Springfield, Ohio and looks forward to being an active part in the continual growth and development of the region.